Over the years, ITscope has evolved from its origins as a price comparison software to become a leading digital trading platform for the IT and telecommunications industry. With a vast network of over 8,500 active users and 400 suppliers, ITscope offers comprehensive solutions for procuring and selling IT products.
From the very beginning, we have always focused on meeting the needs of our customers in the development of our platform. One of our goals was to make the structure of our products more modular in order to cater to the individual requirements of buyers and sellers. As a result, we are excited to introduce to you the realignment of our product structure, which enables a tailored and customer-centric use of ITscope.
The revamped architecture of our solution
In order to meet your unique needs for utilizing the ITscope platform, you now have the ability to individually select and combine the building blocks that are right for you from our packages.
The foundation of our new service offering is built on two pillars: Procure and Sales. The Procure pillar encompasses everything you need for efficient purchasing processes, from price comparison to procurement solutions with fully automated document exchange. On the other hand, the Sales pillar supports you with an online quoting tool, integration of your own products and services, and seamless integration of your B2B customers for successful selling. Additionally, we have a third pillar called Catalog, which forms the stable foundation of our solutions. It includes the utilization of the ITscope database with high-quality product content tailored to your needs in ERP and e-commerce systems.
The Procure and Sales pillars are composed of three levels each - Essential, Advanced, and Complete - to fulfill your requirements even more precisely within these areas.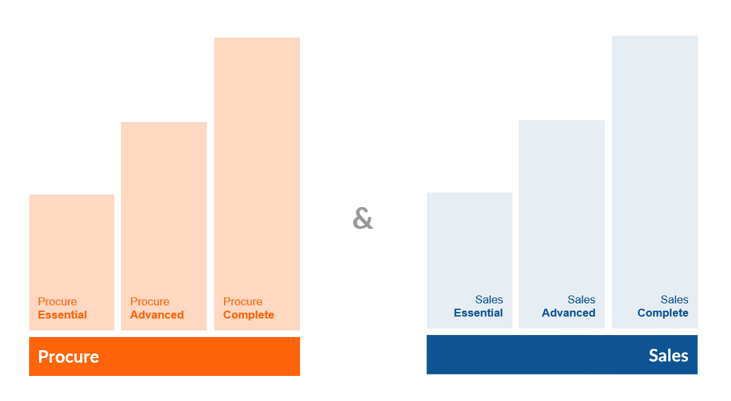 From essential tools for your procurement to fully automated purchasing processes - our Procure packages
In the Procure section, the Essential package already includes complete visibility into inventory and price comparison for 7 million products from 400 suppliers, including a direct ordering function - the foundation for your efficient purchasing.
The Advanced package is the right choice to optimize your procurement processes. In addition to the functionalities of the Essential package, it allows you to organize in teams with multiple shopping baskets, automatically distribute orders to suppliers based on optimal shipping and cost factors, and procure at individual project conditions.
The comprehensive Complete package also enables a seamless electronic procurement process with fully automated document exchange, from order confirmation to delivery notes and even proforma invoices.
Efficient and customer-centric selling - with the ITscope Sales packages
In the Sales section, the Essential package offers you real-time insights into inventory levels, procurement options with calculated selling prices, and street prices as a reference. You can negotiate online offers with your customers and leverage our high-quality product data, including customizable datasheets.
The next level, the Advanced package, allows you to seamlessly enter the world of e-commerce with your own B2B shop. Completely hosted in the cloud, without a single line of code or additional integrations, your customers can order directly from you using this combination of the standardized ITscope catalog and our in-house shop solution.
With the Complete package, you can also connect with industrial customers and their procurement solutions. Effortlessly, and without any development work, you can ensure that all orders from the industrial customer's procurement system come directly to you, thanks to pre-defined interfaces.
Furthermore, all Procure and Sales packages offer the option to add cost-effective basic users for employees who only require read access.
More than just the sum of its parts
The combination of the Procure and Sales packages allows you to unlock the full potential of ITscope: You can seamlessly route won quotes, shop orders, or integrated procurement systems from industrial customers directly to distribution - with minimal effort and fully electronic document exchange.
Flexible extensions with Data Services
For your unique solutions, such as ERP environments or e-commerce systems, we offer comprehensive API and catalog exports that provide all data, formats, and functionalities from ITscope for use outside the platform. With the addition of high-quality product content data, you have numerous possibilities to enhance your individual use cases.
Transparency - beyond our business model
As a result of this comprehensive realignment of our product structure, we have also adjusted our prices. These prices now reflect the additional benefits and value that customers receive from our improved solutions.
Transparency is not only a core principle of our platform; it also extends to the fees of our solution. These fees are not only available upon request but can also be easily and clearly viewed on our website and in the account area.
Discover more about our newly designed Procure and Sales packages and find your optimal solution. Our experts are available to assist you in selecting the right packages for your individual requirements.