ITscope's interface with the Odoo ERP system grants you seamless access to over 7 million items from 400+ distributors, directly from the sales module, and allows you to effortlessly integrate these items into your offers. The latest update to the interface includes order processing, a brand new feature that enables the transfer of order requests and purchasing documents between Odoo and ITscope, streamlining your procurement process.
Brand new: Order processing in ITscope

Order processing has recently been added as a feature in the interface from Odoo to ITscope: Order processing enables the transfer of order requests and purchasing documents between Odoo and ITscope. After an order request arrives in Odoo, it is placed in the ITscope shopping cart with a click and can be ordered from there - of course with the usual optimisation options, such as Best Price, Best Price - Partner or Minimum Sources. You can also find more on the topic of shopping basket optimisation in our matching blog post on the subject.

All resulting orders and documents, such as order confirmation, delivery note and pro forma invoice, are automatically imported into Odoo. Status changes are also synchronised so that no manual effort is required for order processing.

Thanks to the integration, various item details, such as designations, prices, descriptions, images or data sheets, can also be transferred directly into Odoo - so your item master in Odoo always remains up-to-date. Information on stock levels and prices are updated in almost real time via the API interface and you can thus quickly and effectively create offers for your customers - of course always with up-to-date data, info and prices!
Order processing between Odoo and ITscope: this is how it works

The incoming order request ...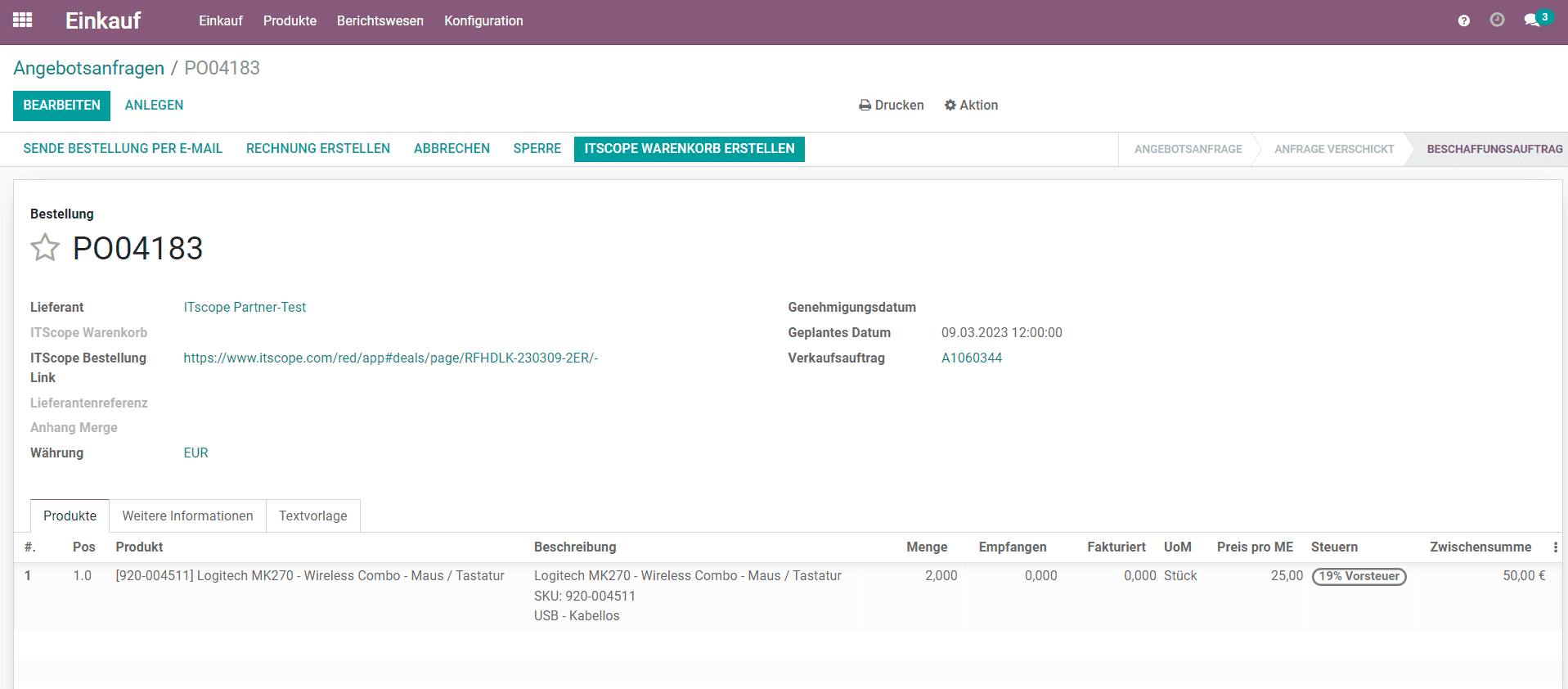 ... is transferred to the ITscope shopping cart ...

... is ordered from there and the receipt is sent by ITscope ...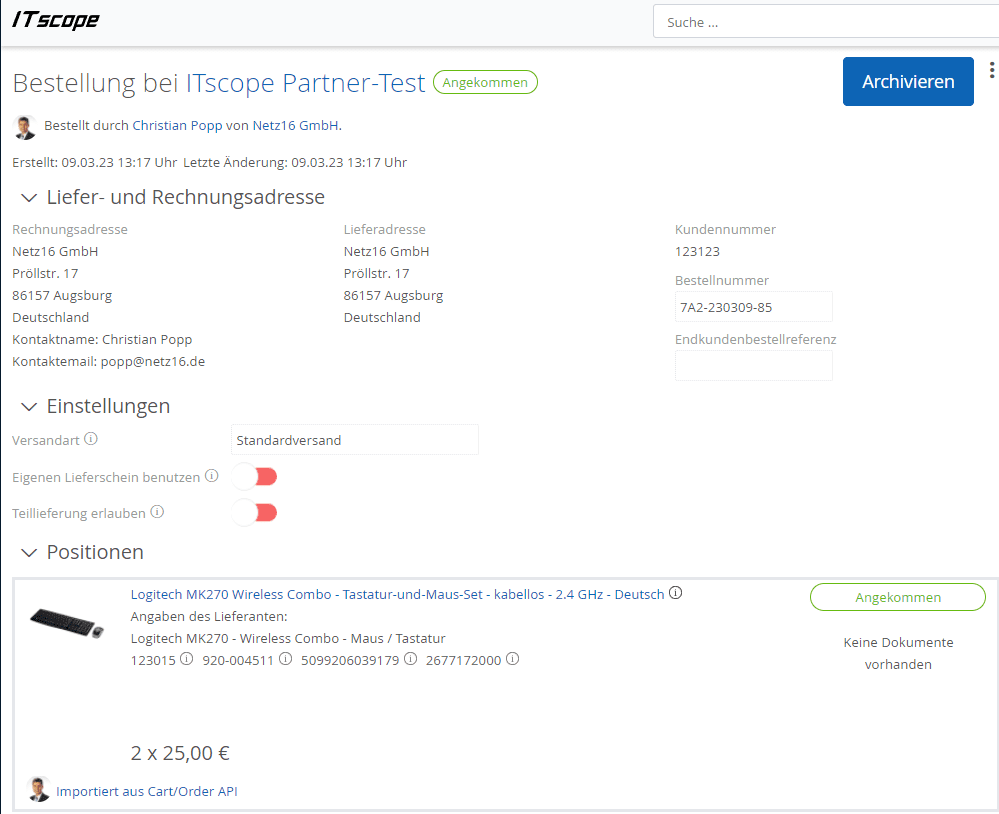 ... again to Odoo - including all status changes.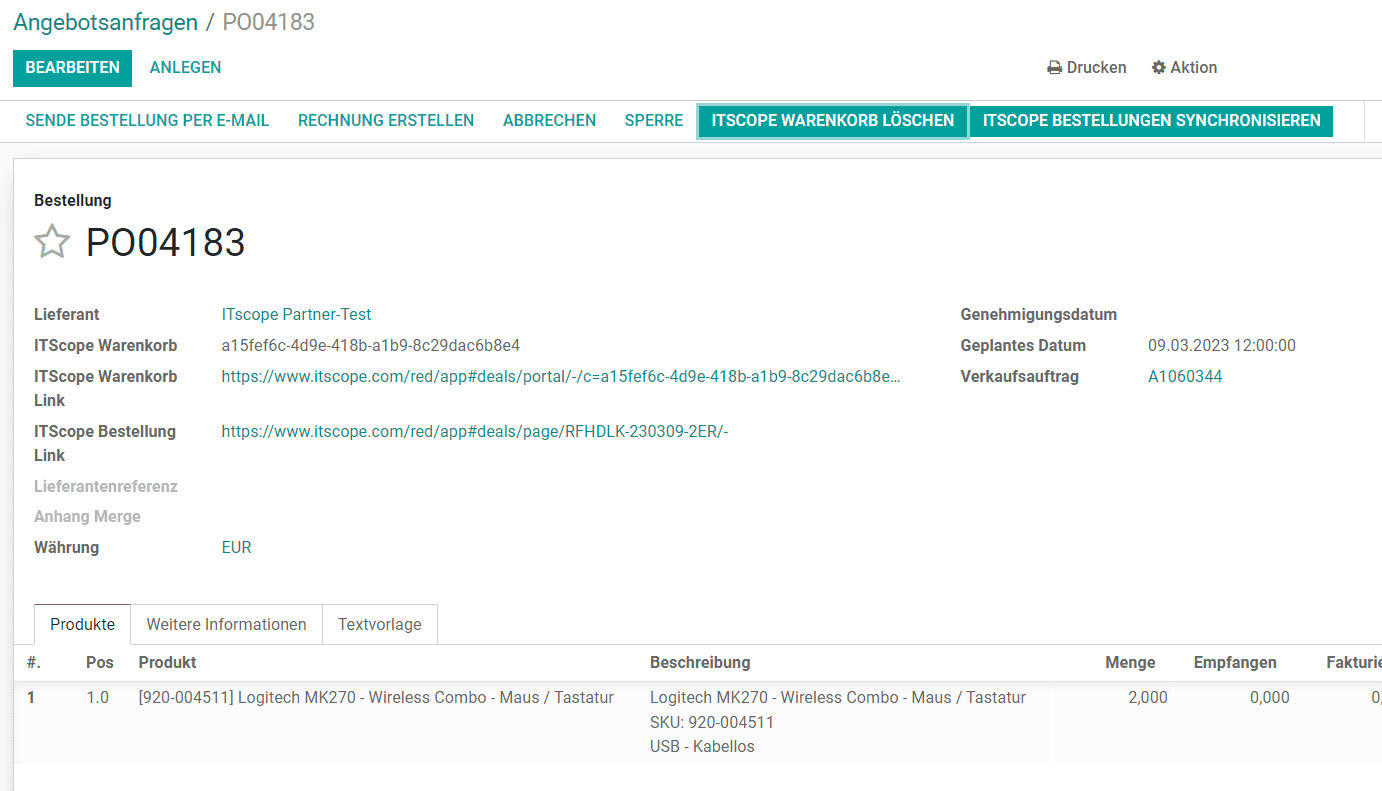 Ready to experience the seamless integration between ITscope and Odoo? Get in touch with us today for a no-obligation consultation and discover the countless benefits of our interface firsthand. Say goodbye to manual processes and streamline your procurement with our flexible and automated solutions.
Not only for Odoo, but for a multitude of systems, integrations for the connection of your ERP are available in ITscope. Import product data, prices and other data automatically into your core system and order from it directly from more than 400 ICT suppliers - this is how clever automation of your procurement works!

Stop wasting your precious time on manual processes! Our interface guide will teach you how to make the most out of ITscope's flexible interfaces and say goodbye to tedious tasks in your company.